Being an overview of the various fungus minis available for your 28mm RPG.
I was actually surprised at the lack of weird fungus creatures. For D&D, aside from Myconids, you usually get Violet Fungus and Shriekers, and that's….that's about all there is. Let's cover those first, anyway. And let's be honest — there's nothing spectacularly different about anyone's violet fungus or shrieker minis that set them apart from anyone else. Here is Reaper's Bones Black version:
Here's the Pathfinder version, the "Purple Fungus".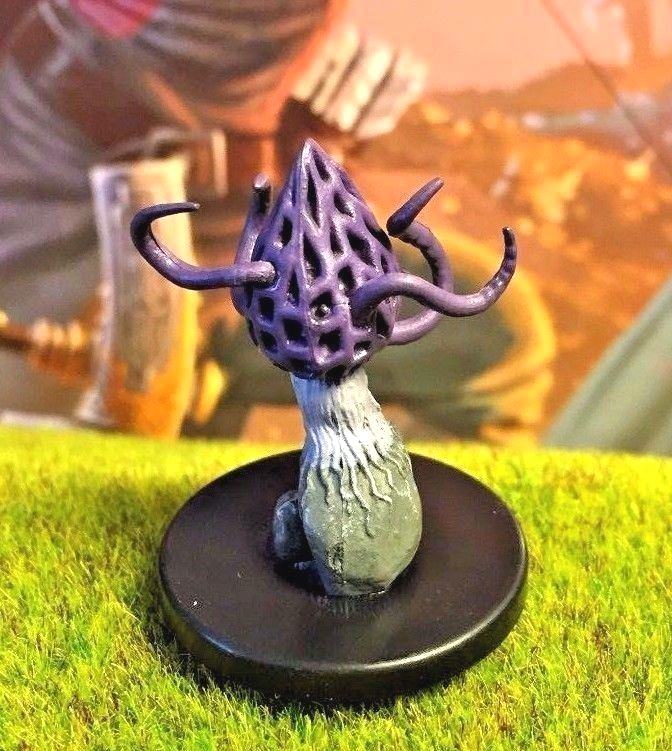 Any particular reason to prefer one over the other? Not really. You could even make your own pretty easily by following DM Scotty's directions.
With that out of the way, let's talk Mushroom Folk. They come by a variety of names. The unfortunate thing is that mushroom-folk tend to be really cartoonish. Indeed, you may as well use the nearest Nintendo Toad or Toadette or even Goomba minifig as use most available minis. I'm going to save myself and you a lot of time and only mention the ones that stand out to me. The official D&D version are the Myconids, and honestly the WizKids Myconids are some of the better mushroom folk minis around. They avoid most of the cartoony pitfalls, they have lots of little details that make them fun to paint. They are inexpensive (like most WizKids minis). Solid.
After the WizKids version, things start to turn Toadish rather quickly. However, I would recommend checking out a couple others as well, including: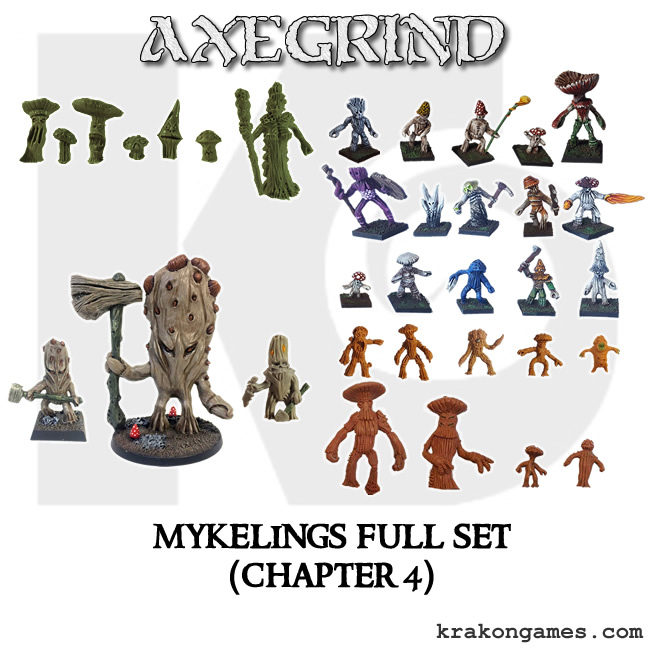 You can find a few others on this thread over at randomplatypus, but a few of the links don't work at the above are mostly the best I've been able to find.
One last stop for our Mushroom Folk category, is the Fungus Queen, Zuggtmoy. The official Gale Force 9 mini is really all you'd ever want for it:
Reaper also has a Fungus Queen, which takes it in a different direction. I suppose they could both be aspects of Zuggtmoy?
Moving on from mushroom folk, we come to Mushroom Beasts. Here we have some more variation and creativity. Let's start with this 54mm "Myconid" by A Villain's Lair, available as a 3d Printed mini from Shapeways. (I have tried to stay away from 3d Printable minis for this guide, since i don't have access to a 3d Printer, but apparently Shapeways prints the items for you? I'm not sure.) I know this is called a myconid, but it's going to be too big to use as a standard mushroom guy, and looks-wise, it's not going to be something you parlay with in a darkened alleyway.
Pathfinder has a couple good fungal creatures, including this Ghost Fungus: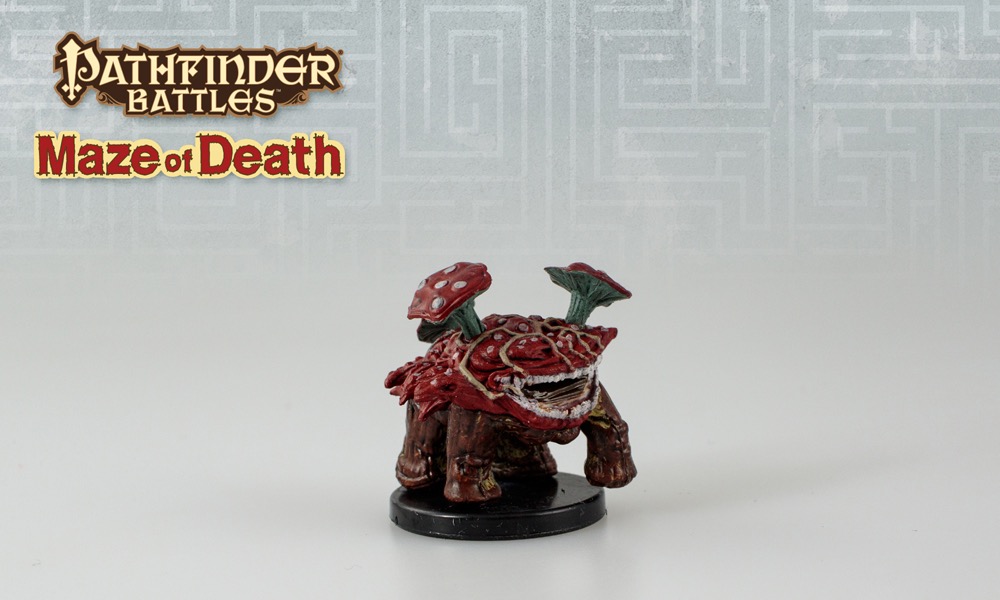 See also this undead-ish "Fungal Guardian":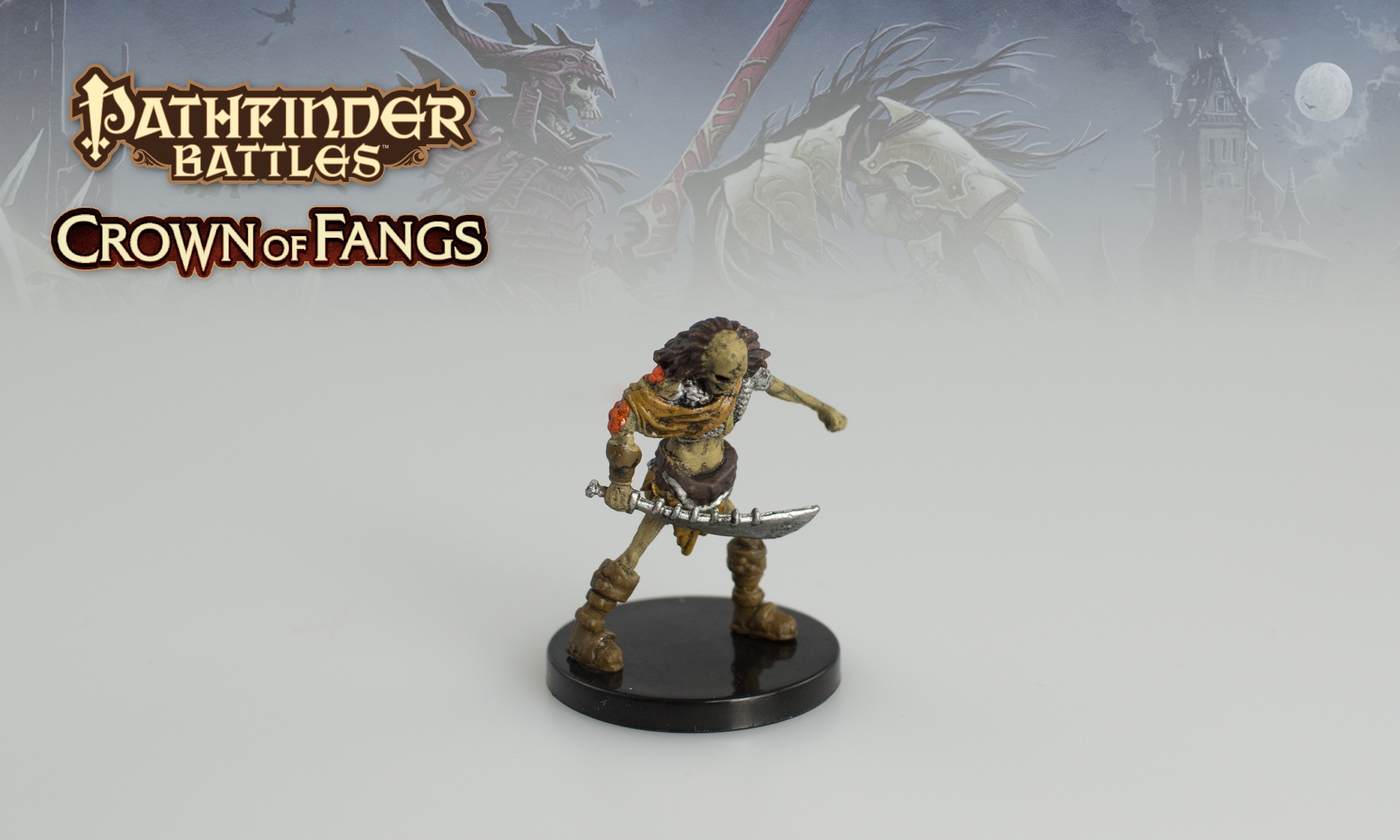 (The Song of Blades line that I linked to above also has some fungal zombies if you want to go this route.) WizKids has another take on a fungal zombie as well, this time from their DND Ravnica line, the Fungus Drudge. I have not seen one in person, but all the pictures I've see make me very iffy on the paint job of this one:
Another MtG: Ravnica mini, which I like a bit better, is the Saproling. It's not my favorite version of the saproling from the card game (I like the more recent tokens with bright colors) but it serves as a smaller fungal beasty:
Epic Salvatore Creations has this Phantom Fungus:
I'm sure there must be some other fungal monsters out there, but these were the few I was able to come up with so far. The first is, the Mi-Go.
Pathfinder has a Mi-Go as well: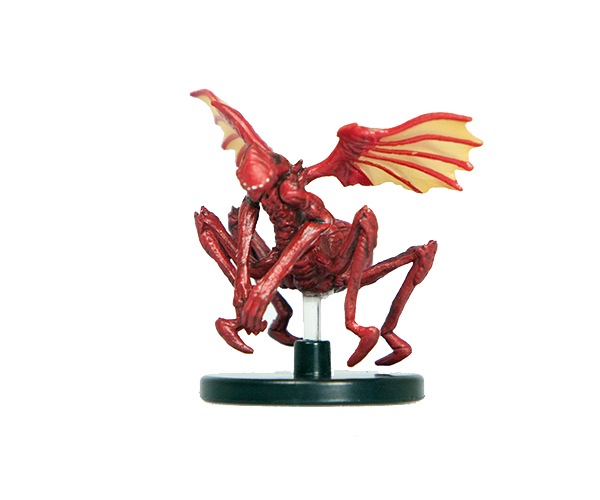 The Dust minis game has Mi-Go with ray guns!
The board game Mansions of Madness includes two Mi-Go minis which are pulling brains out of human heads!
Other Mi-Go minis you might want to check out:
All right, that's all the "official" fungus minis I have to talk about. Here's one more item, though: a while back, I postulated that perhaps — just perhaps — unicorns were just horses that had been infected by a fungal parasite, much like the cordyceps fungus. And that their horns were just parasitic extrusions. This idea had been touched on previously, apparently, by Charles Stross in his short story "Equoid". Given this idea, I think a few undead unicorn minis would fit in with this list. (Really, if you want to mess with your players, you could just a cordyceps extrusion onto virtually any other mini to make a fungal parasite variant of it. Take it to the extreme: have a dungeon where everything is infected, it's all one fungal organism.)
So here is an undead unicorn mini:
Have I missed anything? Do you know of any other cool fungal minis (or undead unicorn minis)? Let me know!